The Duck Stops Here
Part 1---THE OBSESSION
A few years ago. my dad gave me a little duck in my Christmas stocking with the Hilton Hotel logo on its chest. Around its neck was a little tag with a poem that read:
Rub a dub dub
Here's a duck for the tub
In case you forgot your own
We've provided all the comforts of home.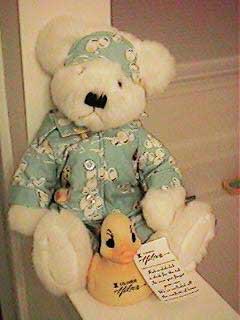 Here it is, with my ducky-pajama teddy bear.
That's pretty close, anyway. But it started a collection that I hold very dear; my incredible, stupendous, cheer-bringing RUBBER DUCKIES.
At right are photos of my ducks in the "Pond", as I call them, divided into groups according to interesting features about them. If you have a duck you no longer want, be it an outgrown child's toy or something from a box of junk, please contact me and perhaps we can work up a deal. I am always adding to the Pond and I am always amazed at the variety I see in duckies out there.
duckmail